I've always had small lashes and always wanted to have the flirty-look eyes. I've tried a variety mascaras and eye lashes to see what would give me the best look. After so much trial and error, I can share with you what my favorite products I like to use. 
First and foremost, (before you go the cheating route of putting on lashes) let's stick to the original way of making your eyes stand out; MASCARA! To begin with, I've shopped and bought samples of so many mascaras and I would say there are only two products that have become my holy grail. At any pharmacy or grocery store, you will find in the makeup aisle a brand called L'oreal. L'oreal has a mascara called the
L'oreal Paris Voluminous Superstar
. It has two ends; black and white. The white side is an eyelash primer in which you apply first, to help the lashes open up. Then, you use the black side to apply the final touch. This mascara is priced at $9.89. This was one of my first mascaras I used for years until I branched out to higher end products. 
Now, if you are looking for a higher end mascara, I would highly recommend the Tarte Cosmetics Tarteist Lash Paint Mascara. The bristles on this brush are excellent in grabbing very single lash on your lid and will make your lashes pop. With this kind of mascara, you do not need an eye lash primer or eye curler. This product is priced at $23, but sometimes in Ultra or Sephora you can purchase the travel size if you would like to try it first. 
Let's move on to eye lashes. If you feel that you can not accomplish to have a natural eye lash look, you can purchase natural style lashes. My favorite brand would be the Ardell Lashes. The fibers of these lashes are very natural and they provide different styles and length. "Natural Wispies" are my go-to pair if needed for a night out or special event. During the Halloween time, I usually purchase the "Double Wispies" to give my eyes an extra boost. In addition, you can buy these lashes as a one pair or five pair set, so most of the time I purchase the Ardell Natural Wispies for makeup gigs. These sets are normally under $15 depending on which store you purchase them from.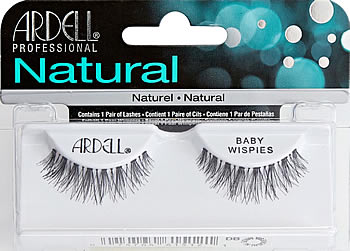 Lastly, if you feel that you do not have the time to put on mascara or lashes, your last resort would be to do eye lash extension. This kind of procedure would permanently glue lashes to your lash line and would have to be redone every two months. The only set back is that it can get costly. The initial appointment can cost around $250. Once it's time for your refill, the price can vary. I would say this can definitely provide any natural, fuller lash look but you can be limited to wearing eye liners and wiping makeup easily. Personally, I would stick to wearing mascara and purchasing the right one.